for YOUR School!
---
---
Congratulations!
to Magna Elementary and Copper Hills Elementary, our first 2 winning schools.
Look at the fun they had: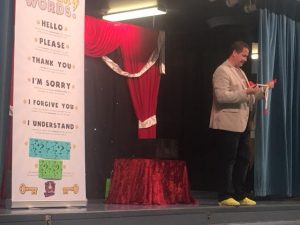 And families had a great time with the photo booth creating waving 'gifs' to send families and friends.
Here are some samples (minus the movement):
---
---
The school with the highest percentage of families
March 15, 2020
WINS a FREE Day of Magic and a Family Magic Show!
Registration is 100% FREE and qualifies the family for the benefits listed below (and others).
Share THIS LINK with families at your school.
Being an official My Discovery Destination! Family qualifies students and their family for:
FREE Family experiences and Adventures all  year long
Coupons, Discounts and Savings
Special Giveaways and Family Fun Packs
Schools will receive BONUS points for:
Registering with My Discovery Destination!
Sending the information home via phone, email, or other district communication options
Linking https://MyDiscoveryDestination.com/Discovery to the school webpage
Posting the link on school social media platforms
---
---
This program provided by My Discovery Destination! and Wonder Academy to support education of all kinds--
public, private, charter and homeschools-- and to promote advocacy and support of youth and families.
&